Psychic Children Speak to the World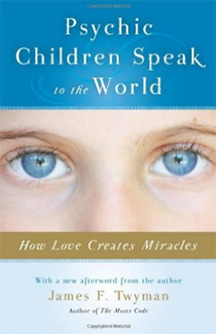 Authors: James Twyman
Hardcover: 163 pages
Publisher: Hampton Roads (July 1, 2011)
Language: English
ISBN-10: 1401926401
ISBN-13: 978-1401926403
Product Description
"Take in this wonderful, enchanting, mystical story, and nourish your spirit. You will be enriched, enlarged, and enlivened." - Neale Donald Walsch
His amazing adventure to discover the psychic children of Bulgaria was the subject of bestselling author and musician James Twyman's book Emissary of Love. Nearly ten years later, this new edition revisits that extraordinary journey to discover a timeless message that would transform the world.
In 2000, while giving a talk in a private home, Twyman encountered an extraordinary ten-year-old boy named Marco. He touched Twyman's finger, and suddenly Twyman could bend spoons with the power of his mind, read thoughts, and transmit thoughts to others. Marco said that there were other special children like him--in a monastery in the mountains of Bulgaria--which led Twyman to southern Europe and further adventures. In the process, he learned that the children had a message for all the world and that he was to be the one to deliver that message.
About the Author
James F. Twyman is the best-selling author of ten books, including Emissary of Light and The Art of Spiritual Peacemaking. He's also an internationally renowned "Peace Troubadour" who has the reputation for drawing millions of people together in prayer to positively influence crises throughout the world. He has been invited by the leaders of Iraq, Northern Ireland, South Africa, Bosnia, Croatia, and Serbia to perform The Peace Concert - often while conflicts raged in those areas. He has performed at the United Nations, the Pentagon, and other venues. James is also the executive producer and co-writer of the feature film Indigo, and the director of Indigo Evolution and the documentary The Moses Code.