Art of Spiritual Peacemaking: Secret Teachings of Yeshua ben Joseph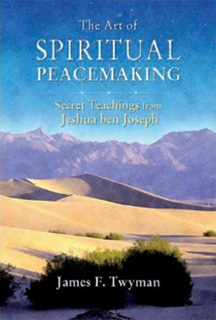 Authors: James Twyman
Hardcover: 272 pages
Publisher: Findhorn Press (April 1, 2006)
Language: English
ISBN-10: 1844090795
ISBN-13: 978-1844090792
Product Dimensions: 9 x 6.4 x 0.9 inches
Shipping Weight: 1.2 pounds
Product Description
You have been called to be a bearer of peace in a world of dreams. There is a reason for this. You want to wake up from this world, and the only way for you to awaken is to awaken others. Yet, no one needs to wake up but you. Why then do I say that you must give this to receive it? It is simply because you are giving only to yourself. No one is present to give or receive except you. This whole course can be described in one sentence: "Give everything as if it is the only thing that matters, knowing that God's will is perfect every moment."
The Art of Spiritual Peacemaking is a collection of sacred wisdom inspired by an encounter between James Twyman and Jeshua Ben Joseph (also known as Jesus) in 2003 at the Dead Sea. The lessons are said to be the inner teachings that Jeshua offered to his closest disciples 2000 years ago, revealing the secrets of living in the world as illumined beings. As a former Internet course, these lessons enjoyed international acclaim, with tens of thousands of students around the world putting these powerful principles into action.
This collection offers 33 lessons on opening and revealing each individual's Illumined Mind, Awakened Heart, and Realized Soul-also known as "The Three Enlightenments." Through this course, Jeshua promises, the seeker will be able to penetrate the veil separating the world of illusions from the real world. In short, this book offers a direct and simple path to illumination.