Emissary of Light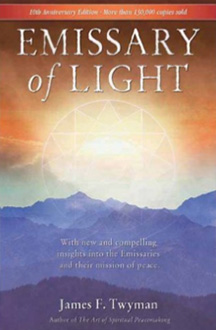 Paperback: 256 pages
Publisher: Findhorn Press; 10th Anniversary edition edition (May 28, 2007)
Language: English
ISBN-10: 1844091015
ISBN-13: 978-1844091010
Product Dimensions: 8.5 x 5.5 x 0.7 inches
Shipping Weight: 9.3 ounces
Product Description
10th anniversary edition - with new and compelling insights into the Emissaries and their mission of peace.
Traveling troubadour James Twyman goes where peace needs to take seed and love needs to replace fear. As you read these pages, you can discover inner peace by making personal the release of fear.
In the late 1990's, Twyman traveled to Bosnia to sing a peace concert. While there, he was led to a mystical community known as the Emissaries of Light, an ancient society whose purpose is to anchor peace where peace has been all but forgotten. He had a life-changing experience when the emissaries invited him to join in their meditations and learn their ways of transmuting fear into love.
Twyman's work is not linked to one ethnicity, one politics, one culture, one religion. His journey of peace and harmony, Inspired by the life of St. Francis of Assisi, has taken him to every war-torn country. It has filled him with the personal journey to witness for peace and to help others do so - even in harsh times and dangerous environments.
In a new introduction written for this 10th anniversary edition, Twyman addresses the cloud of wonderment and suspicion that has hung over Emissary of Light since it was first released.
Reviews
"James Twyman's words are a gift to all who seek a higher way. Your soul has placed your hand upon this book. Now let its message into your heart and mind."
---Neale Donald Walsch, author of Conversations with God
"James Twyman shows us that we all have the power to create peace and change in the world?? We are all 'Emissaries of Light'."
---Marianne Williamson, author of Return to Love
Much like James Redfield's Celestine Prophecy, Twyman's book of cosmic ramblings was picked up by a major publisher after initial success with a small house. Copyright 1997 Reed Business Information, Inc. --This text refers to an out of print or unavailable edition of this title.
---Library Journal
"Fortunately for all of us, another voice with a clear message that something wonderful is coming is certainly evident in James F. Twyman's "Emissary of Light," It is a fast and fascinating read, I recommend it highly. Pay very close attention, for you will find yourself in this work."
---Albert Clayton Gaulden, author, Clearing for the Millennium