Praying Peace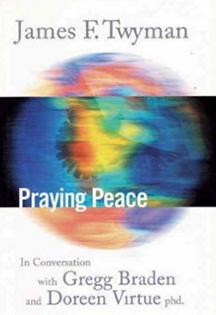 Paperback: 144 pages
Publisher: Findhorn Press (October 1, 2000)
Language: English
ISBN-10: 1899171487
ISBN-13: 978-1899171484
Product Dimensions: 9 x 6 x 0.4 inches
Shipping Weight: 8.8 ounces
Product Description
On April 23, 1998, James Twyman, Gregg Braden and Doreen Virtue sponsored a world wide prayer vigil called ,"The Great Experiment". It is estimated that five to ten million people stopped what they were doing to 'pray peace' for a period of ten minutes. When the vigil began James Twyman was giving a talk to around forty ambassadors at the United Nations in New York. Minutes before the talk began a woman stepped forward and said: '"Four years, four months, four weeks and four days ago, a group of Hopi elders were invited to the United Nations to give their vision of the New World. One of the things they said was, 'Four years, four months, four weeks and four days from now, this very day, something would occur in this building that would forever change the world." When the vigil was over thousands of people wrote emails and letters saying that it was one of the most powerful experiences of their lives.
The concept was simple: When we pray for anything, what we are really doing is focusing our attention on the fact that we don't have it. And since whatever we focus on expands, we are actually promoting the energy of 'not having.' The experience of 'praying peace' is to focus our feelings on the peace that is perhaps hidden, but which is present nonetheless. 'Praying Peace' means to feel that we already have that which we seek. When we focus our attention in this way then we become the means through which peace is expressed in the world.
This book is a practical guide to peacemaking. And yet it comes at the subject from a perspective that is perhaps different than most people expect. Through the 'Seven Pathways to Peace,' the book demonstrates that love is the only real force in the universe. Therefore, peace is always present, even when conflict seems to prevail. When we 'Pray Peace,' we actually increase the peace that is hidden beneath layers of hatred, pulling it into conscious experience. This is the basis of the entire book.
The Seven Pathways to Peace
1. You are always praying; thought itself is prayer.
2. Whatever you focus your mind on increases.
3. To change the world, change your thoughts about the world.
4. If you want to experience peace--become peace.
5. Peace is always present, though it is sometimes hidden.
6. Love is the only force in the universe.
7. The world is already healed.