The Barndance: Place Where Magic Never Ends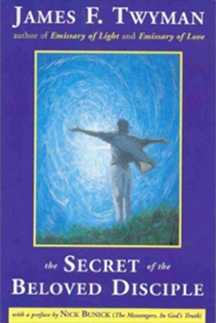 Paperback: 160 pages
Publisher: Findhorn Press (February 1, 2000)
Language: English
ISBN-10: 1899171088
ISBN-13: 978-1899171088
Product Dimensions: 9 x 6 x 0.4 inches
Shipping Weight: 9.8 ounces
Product Description
Much of what you will read in this book may not make sense if you read it with your mind. But open your heart and it will speak directly to your soul, and you will understand some of the eternal secrets and mysteries of our purpose and destiny on this planet.
In 1995 James Twyman began an adventure that has touched the lives of millions of people around the world. While traveling through war torn Bosnia and Croatia he received a message from the Emissaries of Light, an ancient community of spiritual masters said to have existed for thousands of years. In The Secret of the Beloved Disciple, James Twyman finally learns the mysterious identity of the Emissaries of Light, and meets an amazing woman named Maria during a peace demonstration on the streets of Belgrade . He later learns that Maria is a physical manifestation of Mary, the Blessed Mother, and she leads him on a journey that changes his life forever. Follow James as he brings this message of peace to Saddam Hussein in Iraq, the peace talks in Belfast, and to the refugee camps of Kosovo. This is an unforgettable book, a story relevant to our times, exciting, inspiring and completely captivating. If you open your heart to its message, you will never be the same again. You will become part of the solution to the challenges and problems facing the world today. You will find peace and hope inside you, and will want to radiate this out to your fellow travelers on the path. For peace and love is what you truly are.
This is the message of the Emissaries of Light.
"There are two simple truths you need to accept if you are to move effortlessly into the New World, the world which is based on the laws of love.
"The first message is: You're Ready. You are ready to release the fearful beliefs that have kept you bound to the concept of separation. You are ready to accept the reality of love that is the foundation of your existence. And you are ready to give love to everyone in every way, for that is the only way you will fully experience it for yourself.
"The second message is: You Are Holy. Who you really are is beyond the scope of your imagination. If you are one with the Divine Pulse of creation, then you are also one with the holiness of God. When you realize this, when you begin to perceive this truth within everyone you meet, including yourself, then the world will change by itself. You are holy, and that cannot change. When you accept that you are ready, and that the truth in you is the very essence of holiness, then you will recognize the next teacher - the Messenger of Love. It is this teacher who will take you through the Door of Eternity, to the very seat of the soul.