Indigo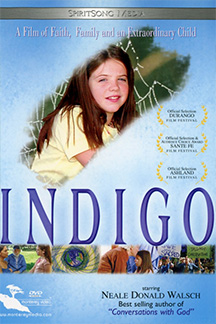 Actors: Neale Donald Walsch, Heather Simon, Jos Viramontes, Dane Bowman, Blu V. Do
Directors: Stephen Simon
Format: DVD-Video, NTSC
Language: English
Region: Region 1 (U.S. and Canada only)
Aspect Ratio: 1.33:1
Number of Discs: 1
Rating: Not Rated
Studio: MONTEREY VIDEO
DVD Release Date: April 26, 2005
Run Time: 89 minutes
Product Description
Through the eyes of a child, the world can be a wondrous place. Through the eyes of an Indigo child, a more enlightened path can be embarked upon...
This poignant new film co-written by and starring Neale Donald Walsch (author of the bestselling Conversations With God ) weaves the journey of a troubled family with the search for understanding that can bring them together.
An estranged grandfather, his unprincipled business world in collapse, finds himself uncomfortably entrusted with his 10-year old granddaughter s safety. Together they flee from her unstable father, embarking on an extraordinary passage of self discovery in which this exceptional child gradually gains his love and guides her family to a place of unity.
Indigo children and their ability to communicate in unique ways with each other, heal, and even foresee events, are well documented. This inspirational film, Indigo , from producer Stephen Simon ( Somewhere in Time , and What Dreams May Come ) and co-written by James Twyman (author of the bestselling Emissary of Light ) and Neale Donald Walsch, serves as an affirmation of spiritual principles universal to all mankind.
Order