The Proof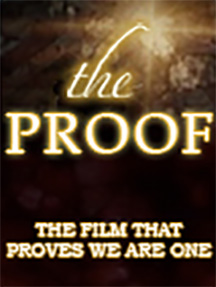 A Free movie that proves that separation is an illusion? Welcome to James Twyman's latest film, THE PROOF. Imagine trying to find a book that was hidden somewhere in the Continental US, and the thoughts of another person are the only clues you have to work with. And what is $50,000 was on the line? What would such an experiment prove?
Along with Hay House, James Twyman offers one of the most exciting projects of the year. And it's a free gift to you. After you watch the movie you'll have the chance to learn how to experience the same phenomenon yourself through a special Internet course. And better still, the first two lessons of the course are also free.
"We want this information to be available to everyone," James said, "regardless of the cost. This may not be a scientific experiment, but I think that it will inspire people to explore these realities even deeper. That's my goal, to offer a project that's so interesting and compelling that everyone has to watch."
To see the entire 20 minute long film, simply Click Here
JOIN THE PEACE PRAYER TEAM